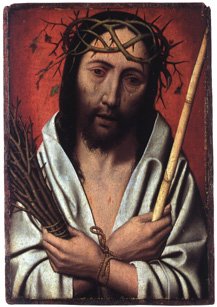 Prayer Card [English Text]
Jesus, Son of God – Man of Sorrows
He was despised and rejected by men; a man of sorrows, and acquainted with grief…. He was despised, and we esteemed Him not. – Isaiah 53:3
He came unto His own, and His own received Him not…. – John 1:11
For God so loved the world that He gave His only-begotten Son; that whosoever believes in Him should not perish, but have everlasting life. – John 3:16
Act of Contrition
O my God, I am heartily sorry for having offended thee, and I detest all my sins because of thy just punishment, but most of all because they offend thee, my God, who art all-good and deserving of all my love.
I firmly resolve, with the help of thy grace, to sin no more and to avoid the near occasion of sin.
+ In the name of the Father and the Son and the Holy Spirit. Amen.
***
Spanish Version (text)
Jesucristo – Varón de Dolores
Despreciable y desecho de hombres, varón de dolores y sabedor de dolencias, como uno ante quien se oculta el rostro, despreciable, y no le tuvimos en cuenta. – Isaías 53:3Vino a su casa, y los suyos no la recibieron. – Juan 1:11Porque tanto amó Dios al mundo que dio a su Hijo único, para que todo el que crea en él no perezca, sino que tenga vida eterna. – Juan 3:16
Acto de Contrición
Señor mío, Jesucristo, Dios y Hombre verdadero, Creador, Padre y Redentor mío; por ser tú quien eres, bondad infinita, y porque te amo sobre todas las cosas, me pesa de todo corazón haberte ofendido; también me pe sa porque puedes castigarme con las penas del infierno.Te ofrezco mis sufrimientos como expiación de mis pecados, propongo confesarme y cumplir la penitencia que me sea impuesta; ayudado de tu gracia propongo firmamente no pecar más y evitar las ocasiones próximas de pecado.+ En el nombre del Padre, del Hijo, y del Espíritu Santo. Amén.
*******